Pete Heslop
15 Jul, 2022
3 min read
Collision Conference Recap
In June 2022, 35,000 folks gathered together in Toronto for Collision Conference.  André and I were two of the contingent who travelled internationally for this goliath of a tech conference.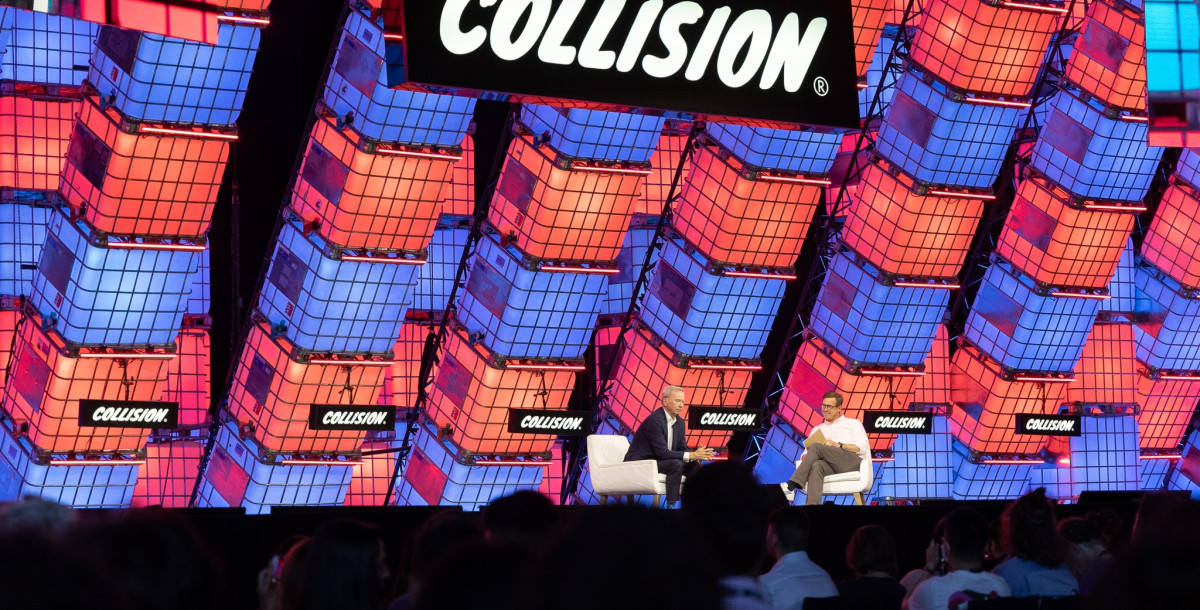 Hosted in the Enercare Centre in the heart of downtown Toronto, Collision was a sold-out conference brimming with ideas, excitement and world-renowned speakers.
There were seven stages, hosting simultaneous talks on subjects ranging from automotive and creative to software.
The expo hall was a mix of well-known brands, many of which we use at Steadfast Collective (AWS, Loom, Cloudflare, Clickup and office vibe). There was also a wide range of startups, pre and post-round A funding. 
Visiting the exhibition area, we took the time to hear about everyone's offerings and chatted to those products familiar with us to hear about their upcoming road map or to explore possible future partnerships.
Weaved throughout our schedule, I arranged meetings with various product owners, agency owners and community leads.
It would be hard to miss the overwhelming common threads shared from the stages; pandemic, web3 and remote.
Catherine Powell, who started at Airbnb weeks before the pandemic-induced lockdown, shared some fascinating statistics. 
More than half of bookings are longer than seven days, where folk are travelling and working.

Long stays (>28 days) are growing exponentially.

Hosts who provide a dedicated desk and chair are seeing better results,

Many people booking longer stays want to know the state of the internet at the accommodation, so Airbnb built a tool to test internet speed and report the findings onto the listing.
Catherine went on to talk about Airbnb's Live and work anywhere policy.
You can work from home or the office.
You can move anywhere in the country you work in, and your compensation won't change.
You have the flexibility to travel and work around the world.
We'll meet up regularly for team gatherings, off-sites, and social events.
We'll continue to work in a highly coordinated way.
What does this mean in theory?
Airbnb staff can live and work in over 170 countries for up to 90 days of the year but will need a fixed address for tax reasons. There's also a focus on semi-regular in-person gatherings.
How to Hybrid with Vinay Hiremath (Co-founder Loom), Mark Mader (Smartsheet), Vanessa Stock (Pitch), and Michelle Ma (Protocol) dug into how these founders were creating and using tools to help teams work hybrid.
Here are a few of my favourite soundbites from that session; 
https://twitter.com/Pwheslop/status/1540040831092006913
Lastly, I would like to leave with a few things that Thomas Dohmke, CEO of GitHub, shared.
While announcing that GitHub's AI-powered new product, CoPilot, would be leaving beta, he shared why GitHub has been innovating. 
"We need to be innovating not for the sake of it but to bring happiness." 
"AI will not replace developers. It's an interface layer to help, not replace."
"Everyone, not just developers, should care about developer happiness."
Thomas is onto something here. What we're building should never be 'for the sake of it'. 
At Collision, we saw a lot of startups, many of whom were funded, but what they were building seemed unnecessary. 
It reminded me of this truth I hold onto at Steadfast Collective; we aim to leave the internet in a better place than we found it.